---
---
Out-of-control clutter is a private problem in your basement or attic. But entryways and living rooms put the problem on public display. Add home offices and hobby rooms, and you quickly realize that you can't hide your storage woes. In these very visible activity centers of your home, things can pile up quickly. Coats, boots, mail, school papers—no wonder it's sometimes hard to find the cordless phone or the television's remote control.
Compounding the problem is the fact that these living areas often lack closets. You can find some help in furnishings: coffee or end tables with internal storage baskets for mail or magazines, umbrella stands and coat racks.
But for major storage relief look to your walls to provide space for bookcases and cabinets.
Your lifestyle as well as your decorating style will affect your storage choices. If you reserve the living room for formal entertaining, you may choose not to have any storage in it at all. But in a casual family room or office, open shelves may be an ideal solution.
This section examines organizing entryways and hallways, then delves into making effective use of wall spaces in formal and informal rooms. The remainder of the section suggests ideas for organizing home offices, workshops, and hobby areas so your free-time activities are more pleasurable.
How you use your living and working areas determines the type of storage space they need. Take an assessment of your lifestyle before you plan storage alternatives.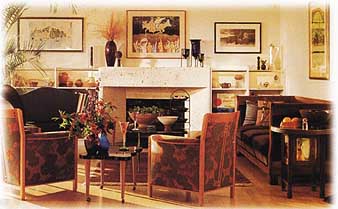 In this formal living room, space is allocated to display of art and collectibles.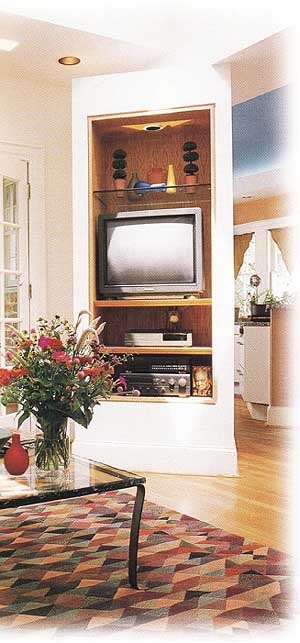 In a less formal family room, an entertainment center becomes a focal point.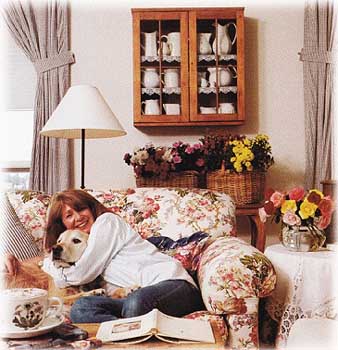 Baskets filled with flowers and shelves brimming with collectibles lend comfort, charm, and order to a cottage living room.
Entries and Hallways
Your parents warned you to stay out of the way of traffic. That warning applies to home storage as well. Entries and hallways are high-traffic areas where clutter can be a hazard as well as an eyesore. You need to provide space for outerwear, such as coats, hats, shoes, boots, and umbrellas. You should also have a temporary place to set down shopping bags, mail, purses, briefcases, or school bags.
An organized entryway closet is the best solution. Use the principles outlined in the previous section and the ideas below to improve your closet's performance. But remember that your entry closet may be used by more than one age group, so make sure that the low storage space is allocated for children and higher space for adults.
If your entryway lacks a closet, consider a coat rack or, if there's wall space, a row for hooks. These are ideal in back entries for work and play coats and sports equipment.
Besides furniture and specialized storage stores, your search for ideas can include flea markets, garage sales, and thrift shops:
• Old milk cans make great umbrella stands.
• A steamer trunk or hope chest in the hallway can store hats, mittens, and other winter wear.
• A small cafe table can provide a temporary set-down spot for magazines and mail.
• If your entry hail is wide enough, a wall shelf system will hold these items, while providing a place to display collectibles.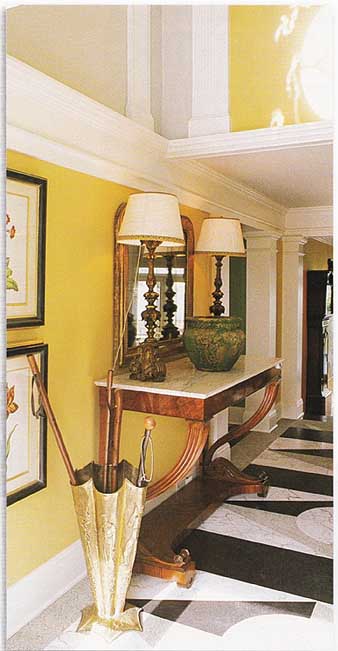 A formal entry provides a stand for umbrellas and a tabletop where you can set parcels and keys while you hang up your coat. Such storage provisions are decorative, as well as functional.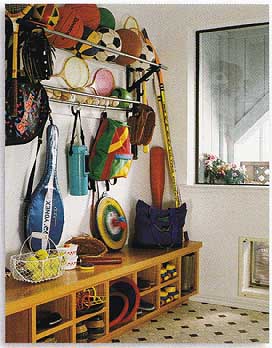 An informal back-door entryway could be a jumble of kids' junk if their parents didn't provide this orderly storage system.
BUILDING A HALLWAY SHELF
A shelf near the most-used door of your house can hold keys, mail, and the other items you lug in each day. Add some Shaker pegs below it, and you have a convenient place to hang light coats, hats, or umbrellas.
The shelf shown here is 30 inches wide, but you can make it any size. Cut the top shelf to length, round the corners with a jigsaw, then sand the edges smooth. Cut another 1x12 13 inches long, then draw the pattern illustrated to cut two knee braces. They should be at least 12 inches long so you have enough room for two countersunk holes for the screws to attach the shelf to the wall studs. Notch the back of the braces to accommodate the 1 x6 cleat that holds up the back of the shelf and holds the Shaker pegs.
Drill holes the size of the pegs you purchase, placing one peg on the outside of each brace and two equally paced between the braces.
Space the braces 16 inches apart so you can secure them to wall studs. There's no need to assemble the unit before you attach it to the wall. But it's a good idea to sand and paint or stain the pieces before assembly.
MATERIALS LIST

Item

Material

Length

Qty

Top shelf

Cleat

Knee braces

1x12 pine

1x6 pine

1x12 pine

30"

28"

13"

1

1

2

Three Shaker-style pegs; 2½" #8 drywall screws; 6d finish nails; wood putty; paint or stain as desired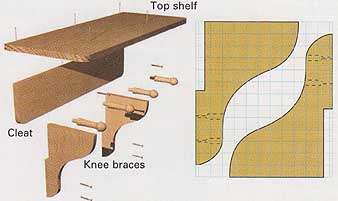 The shelf shown here is 30 inches wide.
ORGANIZING AN ENTRY CLOSET
Most entryway closets are small, with room for just a few coats on a rod and a shelf above it. Increasing the usable space calls for carefully organizing the closet along the lines of the bedroom makeover. If the closet has sufficient space above the existing shelf, add a second shelf for storing seldom-used items.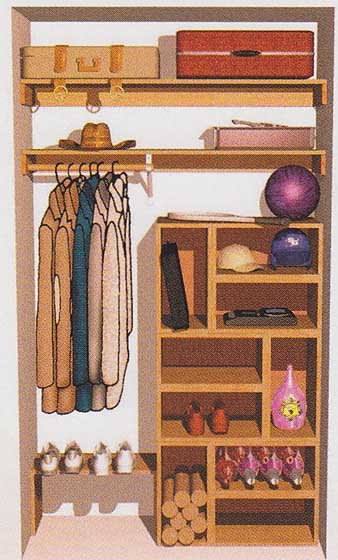 Another solution is to use stackable boxes. The boxes can be sized to hold shoes, boots, purses, briefcases, camera equipment, hats and mittens, or whatever you need to keep handy as you leave the house.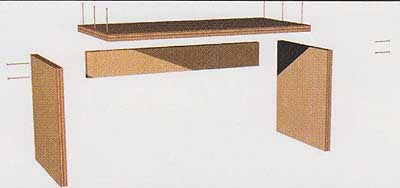 MAKE A SHOE SHELF: Make use of the space beneath hanging coats. Here's a simple shelf for shoes and boots that you can build in less than 2 hours. All you need for a 24-inch-wide closet is a 4-foot 1x12 and a 2- foot 1x4. Cut the sides 12 inches high and make the back cleat 1½-inches shorter than the top shelf so it fits under the shelf between the sides. Assemble with glue and 6d finish nails.