While plastic sheeting storm windows have distinct advantages, most are too fragile to last more than a year. For greater durability, consider rigid acrylic storm windows (see below), which may last as long as 15 years indoors (fewer outdoors, where conditions are more extreme). But for insulation that will last the life of your house, and will approximately double the insulation efficiency of a single-pane window, install that longtime cold-climate favorite, glass storm windows.
Removable glass storm windows are the familiar single-pane outdoor windows that you put up each fall and re place with screens each spring. Often you can buy them ready-made to fit your window size. A standard 3 by 5 foot single-pane removable storm window in an aluminum frame costs about $90 to $120. You can also have these windows made to order; the expense probably won't be much greater.
Permanent glass storm windows also are made to be installed outdoors. They come as single panes and occasionally as double panes, and have moveable screens built into the same sash for year-round use. In warm weather, you just slide the storm glass out of the way, and slide the screen in place. Like removable storm windows, permanent ones may be purchased ready-made (about $65 to $80 for a 3 by 5 foot window), or be made to order. Permanent storm windows are somewhat more expensive than removable ones, but they are more convenient. If you install them yourself, you may save a fraction of your purchase price—about 10 percent—but the effort is considerable for the money you save. It's much easier to have them installed by a contractor.
For either kind of window, Google "Glass Windows" or "Storm Windows" and add your city or zip-code to the search query.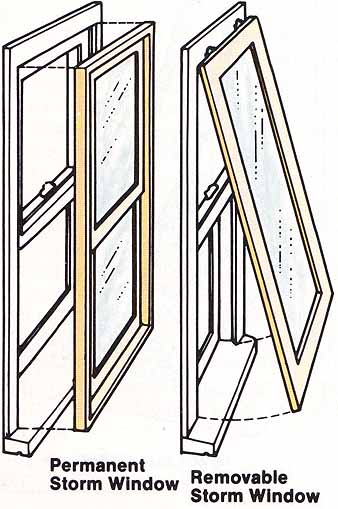 (left) Permanent Storm Window; (right) Removable Storm Window

Next: Other Types of Exterior Window Insulation

Prev: Plastic Sheeting Storm Windows